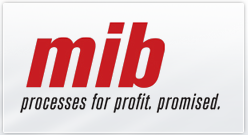 hier geht es zu www.mi-beratung.de

The Solution: SingleOffice© Concept
We considered our consulting services as a product and named it SingleOffice©-Conzept. The newly designed logo of the four separated parts of a circle represents the interaction between the four important factors: processes, personnel, tools and environment.
Our concept describes the consistent alignment of the order processing from Customers' perspectives and interests, regardless of the traditional condition of the departmental boundaries. We started this with the administrative activities such as order taking, testing and plant in ERP/MRP System, etc. Both, intensive testing of production planning and scheduling PPS and involvement of the purchasing process finish the area of mib's SingleOffice© Concept. Ultimately, for example, at the product catalog, our performance is an adequate rounding by designing the warehouse management by means of selecting the "right" disposition process, including the necessary parameter.
Since the beginning of the year 2010, we have applied the SingleOffice© trademark both the word and the design. We are particularly proud of it and our successful projects in the past few years.